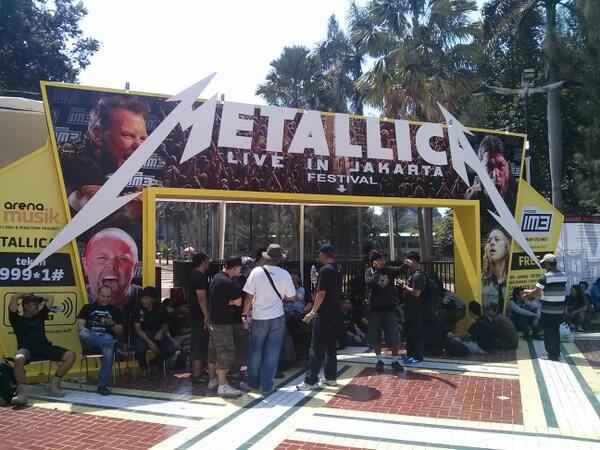 Sebuah energi besar bernama musik metal langsung terasa dan membuat merinding ketika grup legendaris Metallica memulai aksi panggung mereka di Stadion Utama Gelora Bung Karno (SUGBK), Senayan, Jakarta, Minggu (25/8/2013) pukul 20.23 WIB.
Setelah dinantikan selama 20 tahun, akhirnya grup yang kini terdiri dari James Hetfield (vokal dan gitar), Kirk Hammett (gitar), Robert Trujillo (bas), dan Lars Ulrich (drum) ini hadir di depan mata kira-kira lima puluh ribu penggemar mereka. Dua layar LED berukuran besar yang terpasang di kanan dan kiri panggung Metallica akhirnya menampilkan cuplikan seorang koboi yang berada di kuburan masal yang terletak di padang tandus.
Tak lama kemudian, tata lampu warna-warni dinyalakan. Layar LED utama yang berada di tengah panggung langsung menampilkan sosok Ulrich, yang mengacungkan salam damai sebelum menggebuk set drum untuk mengomando rekan-rekannya menggelindingkan lagu "Hit The Lights".
Histeria para penonton pun terjadi seketika itu. Apalagi, Metallica tanpa ampun langsung menghajar dengan dua lagu legendaris mereka, "Master of Puppets" dan "Fuel".
"Halo, Anda terlihat berenergi sekali, butuh 20 tahun untuk kembali ke sini. Kalau begitu apakah Anda masih ingat yang ini," seru Hetfield.
Tak kalah bersemangat, Hammett, yang dari awal pertunjukan menggeber gitar listriknya sambil berjalan ke sana ke mari memanfaatkan lebar panggung, tiba-tiba mengambil posisi di tengah panggung sambil memainkan melodi komposisi film Star Wars dengan penuh distorsi sebagai intro lagu "Fade to Black".
"Jakarta, Anda merasakannya, saya tahu Anda melihatnya, mendengarnya, dan merasakannya. Apakah Anda merasakan yang saya rasakan?" seru Hetfield lagi membakar semangat para penonton yang memadati SUGBK.
Dari : berbagai sumber